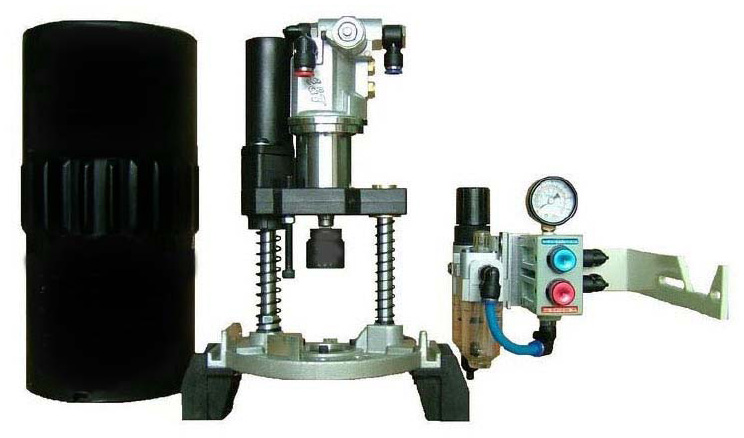 Air Power Draw Bar Pneumatic Power Drawbar Auto Stock Feed For Manual + CNC Milling Machines
AIR POWER DRAWBAR BENEFITS & FEATURES
A&T Air Power Drawbars Excellent Design, Ergonomic Operator Benefits, Fine workmanship and Top quality materials give you Maximum Efficiency and Performance. Our unit will improve overall productivity, thus eliminating costly everyday Multiple Milling Machine Tool changes.
The A&T Power Drawbar reduces your Manufacturing downtime up to 90%, together with reducing wear on your Tooling as well as your collets.
Our A&T Drawbar OFFERS Simple Fast Easy Installation on most any Manual Milling machine and Manual Bedmills. It fits many CNC Mills plus numerous CNC Bed Mills. It will take you a maximum of 30 minutes to install our drawbar. This provides same day operational time, enabling your company to realize immediate cost savings .
A&T Pneumatic Air Power Drawbars automatically increases your milling machines productivity by reducing Operator Manual Collet changing time and machinist and worker fatigue.
The tests and feedback from the A & T Factory and drawbar customers are listed for your cost benefit evaluation. This information should provide you with the data needed to make a wise, educated and cost conscious Air Powered Draw Bar Purchase Decision.
It is an industry standard that the Majority of Machinists and Milling Machine operators will make on Average 10 to 15 manual collet or tooling changes per day, at 3 minutes per collet change.
REALTIME SAVINGS:
A&T power drawbars provide time savings of approximately 12 hours per month. You can multiply that time savings by 12 months for increased yearly productivity of 144 hours.
NO TIME: ONLY TAKES 3 SECONDS for an A&T Air Power Tool Change:
TIME-SPACE-TOOLS save time by for not having to search for the proper Wrench or Tool for every collet change. It Keeps your workplace cleaner and reduces clutter in the milling machine work area.
OPERATOR FATIGUE:
Stops climbing, stretching, and some cases or situations, actually using a Step Stool to reach for the drawbar. Simply press the A &T Drawbar easy to reach ON/OFF button to totally eliminate the difficulty of tightening or loosening any collet or tool holder.
---
BOTTOM LINE "R.O.I." or RETURN ON INVESTMENT:
The A&T power drawbar will provide your organization with the most cost effective way to upgrade from manually tightening your R-8 Collets-Mill Tooling for your Manual or CNC Milling Machines. You Can Easily recuperate your purchase of an Air Drawbar investment, in many cases within the FIRST MONTH of OPERATION!!
---